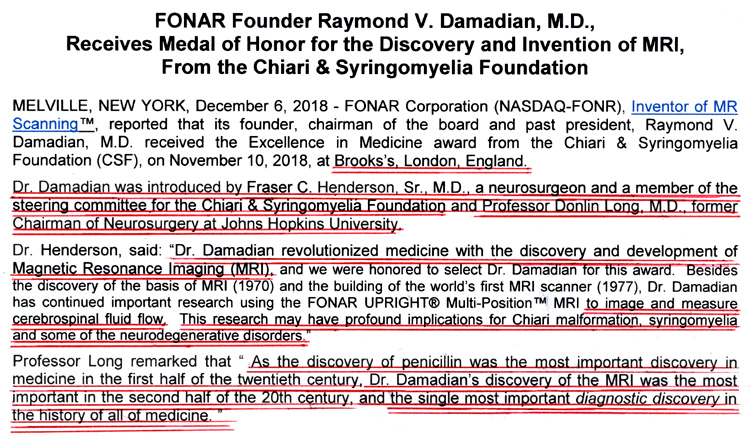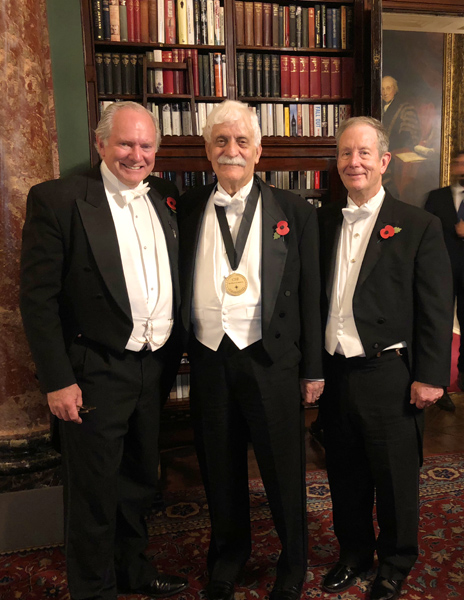 Professor Raymond Damadian, M.D., at Brooks's in London, England, wearing the Excellence in Medicine medal awarded him by the Chiari & Syringomyelia Foundation. Standing with him is Professor Fraser Henderson, M.D. (left), and Daniel Culver, Fonar Corporation Director of Communications (right).
Underlines provided by FONAR
Raymond V. Damadian, MD
EXCELLENCE IN MEDICINE HONOREE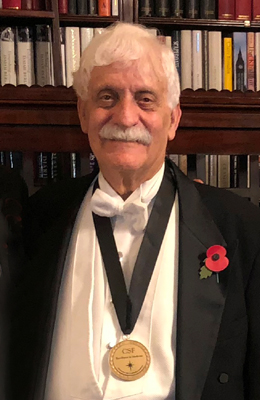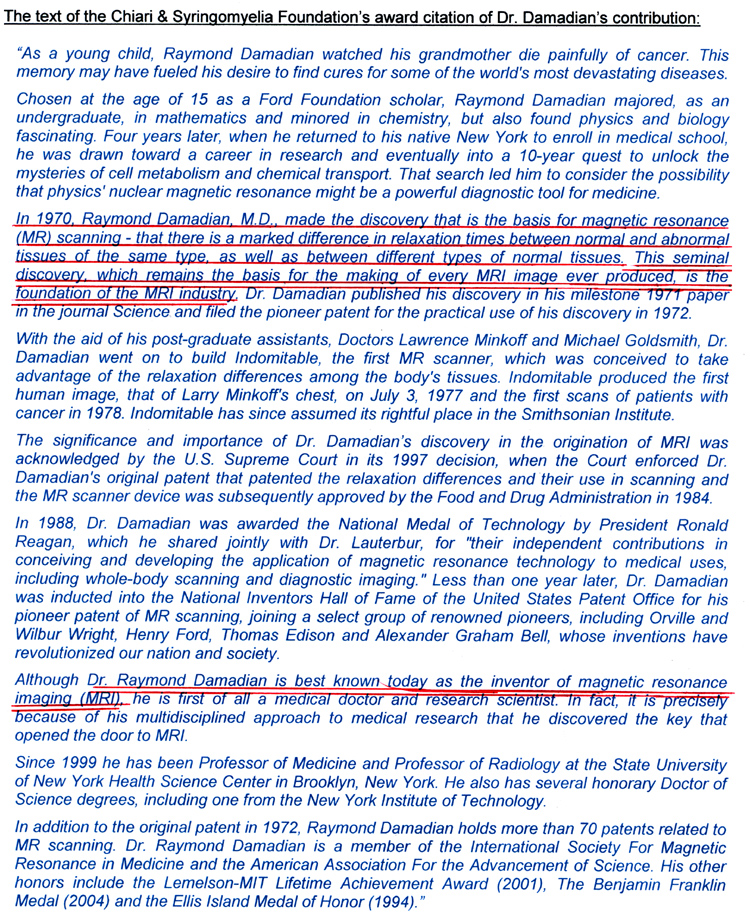 About the Chiari & Syringomyelia Foundation, Inc.
CSF (Chiari & Syringomyelia Foundation, Inc.) is a 501(c)(3) non-profit organization that was founded in October 2007, with the goal of finding a cure, raising awareness and educating scientists, physicians, and lay persons about Chiari malformation (CM), syringomyelia (SM) and related disorders. The office is located in Staten Island, New York. For more information: www.CSFinfo.org
About FONAR
FONAR, the Inventor of MR Scanning™ is the first, oldest and most experienced MRI company in the industry. Incorporated in 1978, FONAR, which is located in Melville, New York, introduced the world's first commercial MRI in 1980, and went public in 1981. The company's signature product is the FONAR UPRIGHT® Multi-Position™ MRI (also known as the Stand-Up® MRI), the only whole-body MRI that performs Position™ Imaging (pMRI™), allowing it to scan patients in numerous weight-bearing positions, i.e. standing, sitting, in flexion and extension, as well as in the conventional lie-down position.
The FONAR UPRIGHT® MRI often detects patient problems that other MRI scanners cannot because they are lie-down, "weightless-only" scanners. The patient-friendly UPRIGHT® MRI has a near-zero patient claustrophobic rejection rate. As a FONAR customer states, "If the patient is claustrophobic in this scanner, they'll be claustrophobic in my parking lot." Approximately 85% of patients are scanned sitting while watching TV.
FONAR has new works-in-progress technology for visualizing and quantifying the cerebral hydraulics of the central nervous system, the flow of cerebrospinal fluid (CSF), which circulates throughout the brain and vertebral column at the rate of 32 quarts per day. This imaging and quantifying of the dynamics of this vital life-sustaining physiology of the body's neurologic system has been made possible first by FONAR's introduction of the MRI and now by this latest works-in-progress method for quantifying CSF in all the normal positions of the body, particularly in its upright flow against gravity. Patients with whiplash or other neck injuries are among those who will benefit from this new understanding.
FONAR's substantial list of patents includes recent patents for its technology enabling full weight-bearing MRI imaging of all the gravity sensitive regions of the human anatomy, especially the brain, extremities and spine. It includes its newest technology for measuring the Upright cerebral hydraulics of the central nervous system. FONAR's UPRIGHT® Multi-Position™ MRI is the only scanner licensed under these patents.
UPRIGHT® and STAND-UP® are registered trademarks and The Inventor of MR Scanning™, Full Range of Motion™, Multi-Position™, Upright Radiology™, The Proof is in the Picture™, True Flow™, pMRI™, Spondylography™, Dynamic™, Spondylometry™, CSP™, and Landscape™, are trademarks of FONAR Corporation.

This release may include forward-looking statements from the company that may or may not materialize. Additional information on factors that could potentially affect the company's financial results may be found in the company's filings with the Securities and Exchange Commission.
FONAR™ Corporation
110 Marcus Drive
Melville, N.Y. 11747
Tel. 631-694-2929
Fax. 631-390-9540
Email sales@FONAR.com
Investor Information

Site Map | Terms of Use-Our Privacy Policy Use
Copyright © 2018 FONAR- All Rights Reserved