FONAR Announces UPRIGHT® MRI Sale To Neuroscience Spine Institute in
Northeast U.S.– Only MRI that Features Correlated Slice Profile (CSP™) Imaging


MELVILLE, NEW YORK, July 27, 2011 - FONAR Corporation (NASDAQ-FONR), The Inventor of MR Scanning™, announced it has sold an UPRIGHT® Multi-Position™ MRI to a physician practice of radiologists and neurosurgeons. The UPRIGHT® MRI will be placed in a newly-constructed 50,000 sq. ft. building, increasing the practice to 75,000 sq. ft. for the new state-of-the-art neuroscience spine institute.
The group, who purchased the FONAR UPRIGHT® Multi-Position™ MRI, said they wanted the best diagnostic device available to allow them to be a "Center of Excellence for the Spine." Accordingly, they considered other state-of-the-art MRI scanners including those with field strengths at 3.0 and 1.5 Tesla, but those systems are single-position only and non weight-bearing. They therefore concluded that to be a "Center of Excellence for the Spine," it was crucial to have an MRI that could evaluate the spine in its full range of dynamic weight-bearing positions. A group representative said that essential in selecting the FONAR UPRIGHT® MRI were the unique, dynamic capabilities of UPRIGHT® MRI scanning vs. recumbent MRI scanning. He remarked, "The UPRIGHT® MRI's ability to provide CSP™ or Correlated Slice Profile Imaging, shows how four images of the spine in all of its weight-bearing positions (flexion, extension, neutral sitting) and in the recumbent position significantly communicates the value of dynamic imaging."
Raymond Damadian, M.D., president and founder of FONAR said, "Correlated Slice Profile (CSP™) Imaging can be done for most spine patients. The patient having the spine scan is scanned in the four positions of Upright®-neutral, Upright®-flexion, Upright®-extension, and traditional recumbent. At the conclusion of the scan, the MRI technologist selects a center-slice sagittal view from each of the four positions. The four image positions are then displayed side by side. In this way, one can quickly comprehend how a patient's pathology changes from position to position within the same anatomic slice. This multi-position weight-bearing imaging of the spine enables the patient's physician to see ALL of the patient's symptom-generating pathology so they can be CORRECTLY addressed therapeutically or surgically (if necessary)."
An example follows:
As one begins to visualize the patient's pathology, and moves from left to right, they will note the following:
Conventional Recumbent Position– minimal disc pathology, patent ventral spinal canal
UPRIGHT® Sitting Neutral Position – anterior shift of spinal cord
UPRIGHT® Sitting Flexion Position – more marked anterior shift of spinal cord with interruption of CSF flow in the ventral spinal canal
UPRIGHT® Sitting Extension Position – disc herniations (C6/7 and C5/6) obstructing the ventral spinal canal and interrupting ventral canal CSF flow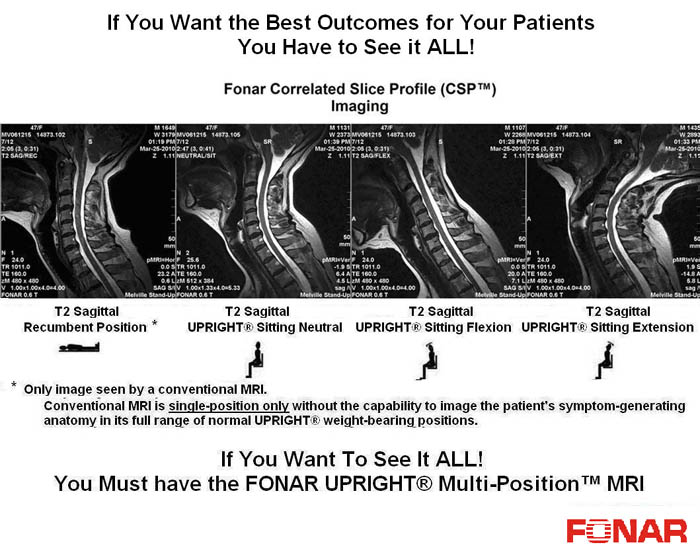 Dr. Damadian continued, "Back Pain is a huge problem for Americans. Our normal vertical posture places undue strain on the 24 vertebra, 31 pairs of nerves, and 40 muscles of the spine."
'In 2005 Americans spent $85.9 billion looking for relief from back and neck pain through surgery, doctor's visits, X-rays, MRI scans and medications, up from $52.1 billion in 1997, according to a study in the Feb. 13, (2005) issue of the Journal of the American Medical Association (JAMA). That money hasn't helped reduce the number of sufferers; in 2005, 15 percent of U.S. adults reported back problems — up from 12 percent in 1997.' (http://www.newsweek.com/2008/02/11/the-price-of-pain.html)
"A great problem in medicine is that of the failed back surgery syndrome (FBSS)", said Dr. Damadian. "The old diagnostic method of recumbent-only MRI is simply inadequate for correctly diagnosing problems of the spine. This group of spine professionals who just purchased the FONAR UPRIGHT® Multi-Position™ MRI recognizes that the spine is a long, fully integrated, physiologic organ where imbalances at one end can have pronounced consequences at the other end. Accordingly, only a fully dynamic image of the spine in its full range of weight-bearing positions can assess the patient's symptom-generating spine pathology COMPLETELY. It is the only way an accurate diagnosis of the source of the patient's spine symptoms can be achieved and a successful treatment accomplished. We are delighted with our new method of Correlated Slice Profile Imaging (CSP™) and suggest that it will change the practice of medicine."
FONAR was incorporated in 1978, making it the first, oldest and most experienced MRI company in the industry. FONAR introduced the world's first commercial MRI in 1980, and went public in 1981. Since its inception, nearly 300 recumbent-OPEN MRIs and 150 UPRIGHT® Multi-Position™ MRI scanners have been installed worldwide. FONAR's stellar product line includes the UPRIGHT® MRI (also known as the STAND-UP® MRI), the only whole-body MRI that performs Position™ imaging (pMRI™) and scans patients in numerous weight-bearing positions, i.e. standing, sitting, in flexion and extension, as well as the conventional lie-down position. The FONAR UPRIGHT® MRI often sees the patient's problem that other scanners cannot because they are lie-down only. The patient-friendly UPRIGHT® MRI has a near zero claustrophobic rejection rate by patients. As a FONAR customer states, "If the patient is claustrophobic in this scanner, they'll be claustrophobic in my parking lot." Approximately 85% of patients are scanned sitting while they watch a 42" flat screen TV. FONAR is headquartered on Long Island, New York.
#
For investor and other information visit: www.fonar.com
UPRIGHT® and STAND-UP® are registered trademarks and The Inventor of MR Scanning™, Multi-Position™, pMRI™, Dynamic™, Full Range of Motion™, True Flow™, The Proof is in the Picture™, Spondylography™, Spondylometry™ Landscape™, CSP™ and Upright Radiology™ are trademarks of FONAR Corporation.
This release may include forward-looking statements from the company that may or may not materialize. Additional information on factors that could potentially affect the company's financial results may be found in the company's filings with the Securities and Exchange Commission.
###