---
Studies Using the FONAR UPRIGHT® Multi-Position™ MRI Published in The Journal of Neurology Demonstrates the Value of FONAR UPRIGHT® Imaging in Evaluating the Extent of Hypermobility in Chiari Malformation Patients
MELVILLE, NEW YORK, March 13, 2008 - FONAR Corporation (NASDAQ-FONR), The Inventor of MR Scanning, announced that the value of the FONAR UPRIGHT© Multi-Position™ MRI in the diagnosis and evaluation of Chiari malformation patients has just been published by The Chiari Institute, North Shore-Long Island Jewish Health Systems, in the Journal of Neurosurgery: Spine, December 2007, Volume 7
http://thejns.org/doi/abs/10.3171/SPI-07/12/601 and www.northshorelij.com/workfiles/chiari/J%20Neurosurg%20Spine%20article%20Dec%2007.pdf
The authors were Thomas H. Milhorat, M.D., Paolo A. Bolognese, M.D., Misao Nishikawa, M.D., of the Department of Neurosurgery, The Chiari Institute, North Shore-Long Island Jewish Health Systems; Nazli B. McDonnell, M.D., PhD., of the NIH National Institute on Aging; and Clair A. Francomano, M.D. of the Greater Baltimore Medical Center. The article, titled, "Syndrome of occipitoatlantoaxial hypermobility, cranial settling, and Chiari malformation Type I in patients with hereditary disorders of connective tissue", examined patients with CT as well as the FONAR UPRIGHT® MRI.
The conclusion of the study was to report a previously unrecognized association between Chiari Malformation Type I (CM-I) and Hereditary Disorders of Connective Tissue (HDCT). The study occurred between January 2002 and April 2007 and involved 2, 813 patients, of which 45% were referred for evaluation after failed Chiari Malformation surgery.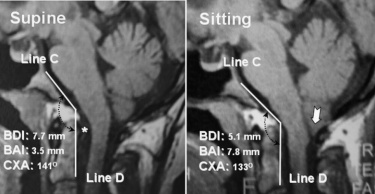 The primary diagnostic tools utilized in the study were 2D reconstructed CT and upright X-ray radiography. The final stage of the study included examinations of patients in the FONAR UPRIGHT® MRI for comparison.
The authors described, for the first time, the phenomenon of "cranial settling", occurring in patients with both Chiari Malformation 1 (CM-I) and Hereditary Disorders of Connective Tissue (HDCT).
They reported, "Recent experience with vertical MR imaging has proved helpful in understanding the dynamic features of occipitoatlantoaxial hypermobility. As shown in Fig. 6, functional cranial settling was associated with notable displacements that included reduction of the basion–dens interval, posterior gliding of the occipital condyles, anterior flexion of the occipitoatlantal joint, increased basilar impression, and cerebellar ptosis with downward displacement of the cerebellar tonsils. These displacements are consistent with the often-pronounced symptoms and signs of lower brainstem dysfunction experienced by patients with cranial settling on assumption of the upright position."
Concluding this peer-reviewed paper, the acknowledgment by Dr. Milhorat, et al. kindly reported, "We thank Dr. Raymond V. Damadian (Fonar Corporation) for providing technical assistance and supervision of patients undergoing vertical MR imaging."
Dr. Damadian, president and chairman of FONAR said, "We are appreciative of Dr. Milhorat and his team for recognizing the FONAR UPRIGHT® MRI's power to visualize the full cranial settling, cerebellar ptosis, cerebellar tonsil descent and foramen magnum impaction that occurs in the Chiari Malformation-I/HDCT patients so they can be optimally addressed surgically."
About The Chiari Institute
The Chiari Institute is the world's first comprehensive, multi-disciplinary center for the management of patients suffering from Chiari Malformation (CM), a rare structural condition that affects the cerebellum; syringomyelia, a chronic disease of the spinal cord; and related disorders.
The Chiari Institute was founded in 2001 by Dr. Thomas H. Milhorat, chairman of the departments of neurosurgery at North Shore University Hospital in Manhasset, N.Y., and Long Island Jewish Medical Center in New Hyde Park, N.Y., and represents the fruition of his decade-long effort to establish an institution dedicated to the treatment of these often misdiagnosed conditions.
While at the State University of New York Health Science Center in Brooklyn, Dr. Milhorat, et al. published a landmark study in the journal Neurosurgery, 1999 May;44(5):1005-17. The article is titled "Chiari I Malformation redefined: clinical and radiographic findings for 364 symptomatic patients". What Dr. Milhorat and his team discovered, using MRI, was that cerebral spinal fluid (CSF) flow was restricted or blocked around the cerebellar tonsils for patients with Chiari Malformation. They also found that Chiari is a condition where the crowding is due to a small posterior fossa region, rather than a large brain. For a reference visit: www.conquerchiari.org/subs%20only/Volume%202/Issue%202(11)/Milhorat%202(11).asp
For more information on The Chiari Institute visit: www.northshorelij.com/body.cfm?ID=6407
#
The Inventor of MR Scanning™, Full Range of Motion™, pMRI™, Dynamic™, Multi-Position™, True Flow™, The Proof is in the Picture™, Spondylography™ and Spondylometry™ are trademarks and UPRIGHT® and STAND-UP® are registered trademarks of FONAR Corporation.
This release may include forward-looking statements from the company that may or may not materialize. Additional information on factors that could potentially affect the company's financial results may be found in the company's filings with the Securities and Exchange Commission.
###