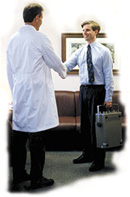 UPRIGHT® MRI and STAND-UP® MRI World-Wide Service and Support

FONAR Field Engineering is the most experienced MRI service organization in the industry. FONAR hires only graduate engineers, and trains every engineer extensively in all aspects of FONAR systems.

A FONAR Field Engineer is never alone. Even the best equipment needs periodic maintenance and repairs, and FONAR field engineers are the best in the business. In addition, behind each top-notch engineer stands a team of experienced support technicians. Working together, they keep your scanner operating at its peak level of performance.
FONAR's Telcom System links headquarters to every FONAR MRI scanner for direct monitoring, upgrading, troubleshooting and even repairing.
FONAR CUSTOMER SERVICE

631-420-4000 phone


631-694-2449 fax
Site Map | Terms of Use-Our Privacy Policy Use
Copyright © 2007-2016 FONAR- All Rights Reserved